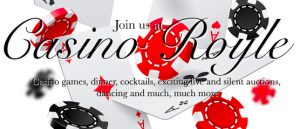 Join us for a fun filled night of Casino Games, Cocktails, Dinner, Dancing, Live & Silent Auctions!
Friday, October 18th 7-10pm Woodway Country Club
Casino Royle is our largest school fundraiser and we need your support! All proceeds from the Auctions will benefit the Royle PTO and fund a multitude of programs that enrich our children's education.
The Cost for the event is $125 per person. Please consider making an additional donation if your budget allows. We are extremely grateful to our Royle Community for being so generous and helping us build a fantastic community together!
We look forward to seeing you at Casino Royle.