SAVE THE DATE: ROYLE BOOK FAIR AT BARRETT BOOKSTORE NOV 16-18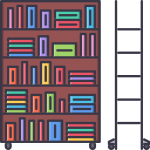 Shop Local and Support the Royle PTO during the Royle Book Fair at Barrett Bookstore Tuesday, November 16th to Thursday, November 18th. It's a great way to keep your kids excited about reading and help raise funds to support the PTO! Barrett's will have a great selection of kids' favorite books and exciting new ones, teacher-recommended titles and many other fun, age-appropriate books and goodies. And be sure to check out their other book sections, too—for Mom or Dad! Just let them know you are buying for Royle and 20% of your purchase will be donated to the PTO. Let your friends, family, and neighbors know too. All purchases that mention Royle will be counted towards this fundraising. Hope you can join us!
In person book fair: We will be hosting an in-person event on Wednesday, November 17th (time TBD). Bring the kiddos and your friends for a personalized shopping experience. And please remember your masks as they are required for this event. Hope to see you then!
For questions please contact:Christina Martineau and Helena Croce