3rd Annual Royle Walk-A-Thon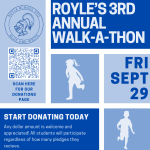 On Friday, September 29, 2023, the Royle PTO will host its third annual Walk-A-Thon. It has been the school's biggest fundraiser, and we hope to raise even more money this year! During school on Friday afternoon (9/29), the staff and students will walk around the schoolyard for about 35 minutes to honor all the pledges they've received and show their support for Royle School! Parents are welcome and encouraged to cheer on the students and teachers!
There are two ways to participate in this Walk-A-Thon.
1. Students can collect pledges for their efforts in walking. We will not be collecting pledges per lap, only a fixed dollar amount to show support for the Walk-A-Thon. A pledge form was sent home to collect cash pledges. Cash is to be sent into school weekly with the envelopes that went home. There is also an electronic option using this website link. Your child's team is their classroom teacher. Any dollar amount pledged is welcomed and appreciated. All students will participate in the Walk-A-Thon regardless of how many pledges they have received.
2. Parents can purchase signs that will be displayed outside at school on the day of the Walk-A-Thon. The signs will have your message printed to show support for a student, a class, or to show support for the entire Royle School. The form to purchase a sign will be in the packet of information sent home next week. Please send back the form to your child's teacher ASAP. It takes some time and effort to get the signs printed so please send by Monday, September 25 (but the sooner the better)
Prizes will be awarded weekly based on total pledges per classroom. The more pledge money received the better the prizes! A packet with envelopes and information will be sent home next week- please be on the lookout for it. There will also be special prizes awarded at the end of the Walk-A-Thon to the top 3 earning classrooms and a school-wide Laser Light Show if we surpass our goal of $28,000 pledges! We are so excited for this year's Walk-A-Thon. Let's work together to make our 3rd Walk-A-Thon our best!!