Library Volunteers 2022-23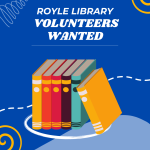 Hello Media Moms & Dads, Below is a list of the time frames available for volunteering. Volunteers usually help out for 30-60 minutes.
Please sign up to help reshelve books using the Sign-up Genius Link
Thanks for supporting the Royle Library-Media Center!!
Reach out to Sherrie Lanier with any questions.