On Sale Now: 22-23 Royle School Yearbook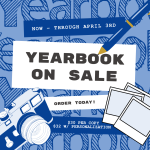 The 2022-23 Royle Legend Yearbook is now available for pre-order! Don't miss out on ordering your own copy of this keepsake full of photos of your child and their Royle friends! This year the Legend will be even larger, complete with a hardcover to protect these precious memories.
Yearbooks are on sale until April 3rd; there will be no books available to purchase in June when they are distributed to students. The Royle Legend is $30 per copy or $32 with name personalization.
To Purchase a copy:
Visit the Memory Books order website: www.memorybook.com.
Enter our school code: 961076.
Login if purchased previously or register as a "new user" to buy
Click "Add/Update Information" to change your student's grade & teacher for this year or to add a new student
All students in the system will show last year's teacher. If you don't automatically see updated info after you click 'submit,' refresh your page. Updating to the correct year is necessary to ensure your child's yearbook is delivered to them in June.
If you are ordering more than one book, add each book to your cart separately. Once you have a book in your cart, you can choose to add another or check out.
Once your order is complete, you will get an email confirmation. Please save for reference in case there are any questions in June.
Financial assistance is available via a confidential request to Natasha Torre
Questions? Reach out to Allyson Anderson