Royle PTO Committee Interest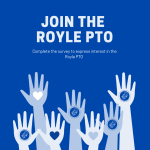 Royle PTO Committee Interest
Do you have a knack for event planning? Is running your passion? Get involved in the Royle PTO, make a difference, and have fun at Royle. You may even make a new bestie!
You can help a little or a lot! The Royle PTO has a variety of opportunities available to help you get involved with our school and connect with the Royle community. We have time commitments at every level and appreciate any amount of time or skill you can spare. Please see the available committee opportunities listed here and check any area that is of interest to you. Feel free to check as many as you'd like!
*Checking the box doesn't automatically commit you to anything; it just allows us to send you further information and help find a good fit for your interests and availability.